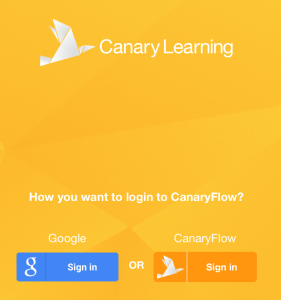 CanaryFlow is a classroom workflow platform that makes it easy for K-12 teachers to create lessons, add and grade assignments, upload resources, comment on student work or class activities, and schedule events.  Class set-up is intuitive, with guided instructions as needed. Users (students and teachers) can access materials and submit work using the camera, Google Drive, or Dropbox. All account activity is quickly synced across all devices.
Features for teachers include:
ability to collect, grade, distribute and collect assignments and materials
a list of students who have not submitted assignments–including percentages
ability to send a message to one person or a class
ability to access and import over 53 different file types (such as MS Office, Google Docs, images, PDFs, and more) from the digital device's camera, Google Drive, Dropbox and other cloud locations
ability to sign in with an existing Google Classroom account and get access to one or more of your Google drives.
basic lesson planning with new assignments, resources, and assessments that can be curated either on the class calendar and/or as current/future activities
ability to move lessons forward for use the next year
Here's how you start:
Teacher creates an account on CanaryFlow, then sets up her/his class including assignments, due dates, homework, lessons, and more. Students sign on to iPads, desktops, Chromebooks, or laptops with a Link code provided by the teacher which gets them with the right teacher, the right class.
Pros
Roughly 35% of homes don't have access to either WiFi or internet for student homework. It's a big plus that resources collected with CanaryFlow can be accessed offline.
The program includes a thorough sample class with a guided tour that explains all the features included and how to use them in a real class.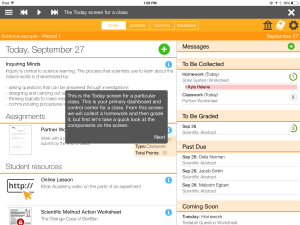 Some features I found that I loved:
The startpage is clean, uncluttered, and intuitive.
The teacher's dashboard includes useful reminders like 'to be graded' and 'students who are late'.
The class dashboard includes tabs for 'today', 'calendar', 'contents', and 'gradebook'.
Paper tests can be uploaded to the program (by taking a picture) and then shared out with students. If students took a paper test, they can take a picture of it and then share that with the teacher for grading. All test-taking (for students) and correction (for teacher) tools are available whether the test was created in the program or uploaded from a hard copy.
Basic lesson planning is available with new assignments and assessments.
The iPad app and the webtool look exactly alike–same tools, same processes, virtual clones. This is a welcome feature in that so often–too often–the two platforms are completely different, which means users must learn both.
Classes can be shared with teaching assistants and co-teachers.
The learning curve is intuitive if you've used other LMS and SIS programs. To assist users, robust tooltips and help videos are provided through the program as well as a dedicated YouTube channel.
Cons
There is no report card integration. I'm actually ambivalent about that. Most teachers I know are fully vested in an existing gradebook program. To make a change would be painful and time-consuming. On the other hand, a common complaint I hear from teachers is they must leave their classroom management program to enter report card grades and comments. In a perfect world, those are seamless.
Insider Tips
While there is no parent portal, I'm told it's coming. As a big believer in parents as education partners, that will be a great addition to an already-top notch program.
Overall, CanaryFlow is to teachers what a good map is to travelers: intuitive, up-to-date, and focused on getting teachers and students to their educational destination. Beware: It's addictive. Once you've adjusted to its online grading, messaging, digital lesson plans, and in-depth reminders for a myriad of teacher tasks, you won't want to go back to your spreadsheet or paper notes.
A few screenshots of my journey through CanaryFlow:
This slideshow requires JavaScript.