Tagged With:
internet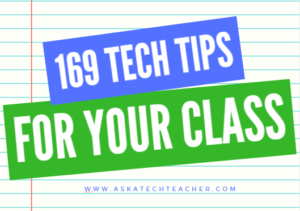 In these 169 tech-centric situations, you get an overview of pedagogy—the tech topics most important to your teaching—as well as practical strategies to address most classroom tech situations, how to scaffold these to learning, and where they provide the subtext to daily tech-infused education.
Today's tip: #74–What's My IP Address?
Category: CLASSROOM MANAGEMENT
Sub-category: Security, Internet
Q: I need my computer's IP address, but I don't know where to find it. Help!
A: Let's start with why you might need your IP address. Here are a few reasons:
Your Web hosting company needs it to troubleshoot your internet connection or an email problem.
You fear your computer has been hacked so want to know where it last was accessed.
You need to link your printer (or another digital device) to your computer.
You need to verify legitimacy for an online company you work with.
There are lots of places online that provide your IP address for free. Here's one: My IP Address.com.