Websites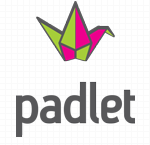 One of the most popular, free tools used by thousands of schools is a virtual bulletin board called Padlet. It starts as a blank canvas (called a 'wall') to which users can add text, video, images, weblinks, and more. It can be accessed via a direct link that is posted or emailed, or an embed in any digital platform that accepts these HTML codes (such as a blog, website, or wiki). It can be managed from the website, a mobile device, or with a Chrome app or extension. Walls can also be emailed, printed, social shared, or saved as an image or PDF file. Individual accounts are free; education accounts are charged per teacher.
Here's how it works:
set up an account so that you can save and share your walls
quickly and easily create your first wall with a customized background, title, and layout. Backgrounds include lined paper, blueprint, a chalkboard, and more.
once the set-up is completed share the link or embed with students
to participate, all students do is tap the screen and add their comment
Pros
If you have a Google account, you can use your Google account to sign on. No need to create a new account.
All walls are by default semi-private — accessed only through the direct link or the embed, but privacy options range from 'private' to 'public'. You choose your level of transparency.
An unusual 'save' option is to export as a PDF. This creates a completed document that is platform-neutral.
Amazingly, the walls are ad-free whether you're on the website or the embed. I don't know how they manage this, but I'm thrilled — and hope it lasts!
Cons