News
If you're evaluating math programs at your school, a good option to consider is ORIGO Education's Stepping Stones. Here's one educator's story about how Stepping Stones made a big difference with his students' math skills: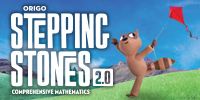 How Magnolia ISD has 'leveled the playing field' for students in math
by Dennis Pierce
Like many U.S. school systems, the Magnolia Independent School District in Texas serves a diverse student population. More than a third of its students come from low-income families, and one out of every eight students is an English language learner. Yet, the district has seen consistent and remarkable success in math achievement across all of its elementary schools since it began using Stepping Stones, a prekindergarten through sixth grade comprehensive math program from ORIGO Education.