news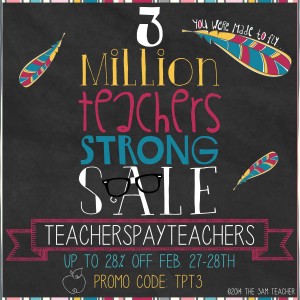 February 27th and 28th, my entire TeachersPayTeachers store is on sale. Drop by and get something from your Wish List at 20% off! Just for showing up, you'll get an additional 10% off from TPT–that's 30% off anything you purchase.
Plus–I've set a bunch of items to FREE. You can browse my store to find them or click the link below:
One more reason to stop by–I've posted 2 new single lesson plans:
How to use Note-taking in Your Classroom
This covers using simple word processing programs, GAFE, Evernote, Google Forms, Flipboard to take notes. Your students will love at least one of them.
How to use 3 Presentations Boards in Your Classroom
Start class with a war-up that teaches–Problem Solving, Vocabulary, and Google Earth. These are great for Responsive Classroom programs.
Even if you're not in the market for more tech ed products, drop by. Join the excitement!