Keyboarding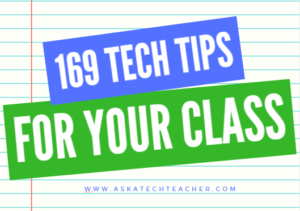 In these 169 tech-centric situations, you get an overview of pedagogy—the tech topics most important to your teaching—as well as practical strategies to address most classroom tech situations, how to scaffold these to learning, and where they provide the subtext to today's tech-infused education.
Today's tip #15–Save Early Save Often
Category: CLASSROOM MANAGEMENT
Sub-category: Keyboarding, Problem-solving
Q:  My computer crashes often. How do I keep from losing my work unexpectedly?
A:  Saving is easier than you think. I know–you think it is easy, so what's the deal? Have you ever lost your work because… it just disappeared–maybe a power surge, maybe you pressed the wrong button. Who knows, but hours of work evaporated. Encourage students to make it a habit to save every ten minutes.
Here's what you do: